10 Considerations for Stainless Steel Trench Drains
Stainless steel trench drains see extensive use across a diverse range of industries. There are several reasons for architects, town planners and construction engineers to prefer the installation of stainless steel trench drains over other types, made out of materials like polymer plastic and iron. Let's look at what these might be.
1. Strength
Stainless steel trench drains being made out of an alloy are very strong and durable, when compared with those made out of other materials. Because an investment in installing a trench drain system is meant to be a long term one, the choice of one made out of stainless steel makes a lot of sense.
Stainless steel trench drains can withstand extreme temperatures quite well making them just right for installation in facilities that see extreme heat or freezing temperatures, something that is not uncommon in industrial settings. The corrosion-resistant properties of stainless steel also allow trench drains made out of this material to handle chemical discharges with ease. Stainless steel grates used on trench drain systems are capable of coping with heavy loads, allowing even heavy equipment to be placed over them with ease.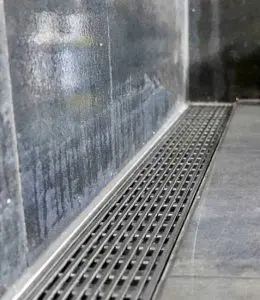 Heel Proof Stainless Steel Trench Drain
2. Hygiene
Stainless steel is a material that is smooth and solid, making it quite easy to clean trench drains made out of it. Stainless steel grates too can be quite easily cleaned with there being no danger of any waste getting stuck along the edges. Furthermore, the nonporous nature of stainless steel is resistant to the growth of contaminants like bacteria. It is not surprising therefore that industries such as food processing and commercial establishments like restaurants and foodservice facilities prefer to get stainless steel drains installed on their premises over those made out of other materials.
Square Slot Stainless Steel Pool Trench Drain
3. Safety
Owing to its strength, there is less chance of a stainless steel drains and grates crumbling under any kind of pressure and weight. This considerably lowers the likelihood of anybody suffering an injury on account of a broken or damaged trench drain system. Besides, stainless steel grates are lightweight and can be easily removed to facilitate the cleaning of the drains, minimizing the chances of workers getting accidentally hurt while doing their job.
Stainless Steel Slot Drain System
4. Economy
Installing a stainless steel trench drain saves money over the long run in several ways. Not only is stainless steel intrinsically an economical material, but its durability and longevity also make it even more so. Stainless steel grates, in particular, will not have to be replaced in a very long time, due to their strength and durability, saving one thousands of dollars in replacement expenditure. Also, the fact that stainless steel trench drains can be easily cleaned helps one save money as well.
Decorative Stainless Steel Trench Drain
5. Efficient and Minimal Upkeep Required
Stainless steel trench drains being lightweight are quite easy to install. All it takes is a single person to manage a stainless steel trench drain system. That is the reason why stainless steel trench drains become the automatic choice for so many industries.
Stainless Steel Catch Basin
6. Enables High Flow
Stainless steel trench drains enable a high flow of liquid making them eminently suitable for industrial and commercial applications. With trench drain widths varying from three-fourths of an inch to more than forty-eight inches, stainless steel trench drains can accommodate any volume of flow.
Stainless Steel Catch Basin Pits
7. Versatility
There are all manner of options available in trench drains. For example, one could even order stainless trench drains as long as forty feet to minimize the need for welding. The premier stainless steel manufacturers can create diverse custom-designed drainage systems serving the needs of a multitude of industries- food and beverages, meat processing, chemicals, munitions and so on.
Stainless steel trench drains come in a variety of styles including a V-bottom profile, a flat bottom profile, slot drains and those equipped with catch basins or floor sinks. These can lend themselves to different applications across myriad industries.
There are several important things that one needs to know about stainless steel trench drain systems and the paraphernalia that accompanies them, before deciding on installing a system. Let's look at what these might be.
Stainless Steel Trench Drain Kits
Build Quality
Considering that trench drain systems are a long term investment, one should ensure that the build quality of the stainless steel trench drain system one is thinking of installing is out of the top drawer. For instance, the premier quality manufacturers would deploy 304 or 306 construction conforming to heavy-duty 12 gauge material standard. These should also make Schedule 10 and Schedule 40 outlets available. The preferred slope for stainless steel trench drain is one eights inch per square foot or a customized slope as per the client's specifications.
Stainless Steel Infographic
Additional Options
Stainless steel trench drains can come with additional options conforming to client requirements. These include floor sinks, catch basins, outlet or basket strainers, secondary strainers, inline sumps, locking or bolt down covers and levelling brackets.
Equally important are the trench drain cover operations provided to customers. These may come in the shape of bar grate, solid plate, slotted solid plate, formed cover and chem grate.
Stainless Steel ADA and Heelproof Grate
Final Thoughts
Stainless steel trench drains are increasingly preferred over trench drains materials made out of other materials because of the obvious advantages they present. These are stronger, more durable, corrosion and extreme temperature resistant, light to handle, hygienic, easy to install and maintain and extremely cost-effective over the long run.
Besides, these types of trench drains can see use across diverse industries, which cannot be said to be the case with other types of material with which trench drains are built. In light of the high importance given to the safety factor in industries like food and beverages, commercial kitchens and restaurants, the choice of stainless steel trench drains is a no brainer.
Not only are stainless steel trench drains long-lasting and resilient, but these are also highly diverse, versatile and customizable making them ideal for installation across a diverse range of industries. Of course, what is important is that one sources these from credible manufactures and suppliers who adhere to prescribed standards. Once these are installed, the right kind of stainless steel trench drains will provide very long years of trouble-free service.