Shallow Trench Drain Systems | For Threshold and Minimal Depths
Shallow trench drains are used for site conditions with depth restrictions. Shallow trench drains have minimal heights and depths. These minimal channel drains can be used in a variety of different applications with a low foundational depth.
Trench drains have a U channel shaped figure, used for efficiently draining excess surface water. This U shape is minimal at 1.5" - 5" depths. Filcoten, Zurn, Mifab and Swiftdrain make suitable shallow trench drain systems.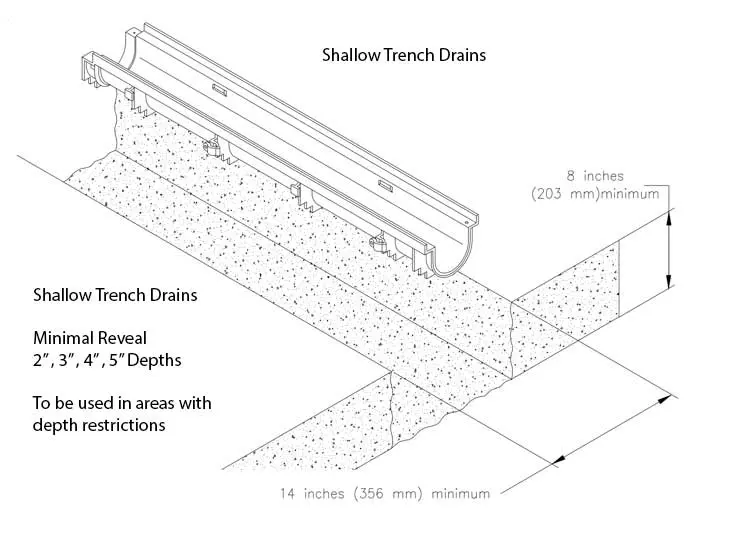 Filcoten Shallow Trench Drains
Filcoten has a line for minimal depth channel drains ideal for threshold applications, the FILCOTEN pro mini range is the most complete range of its class. We carry two different heights for each 4", 6", 8" and 12" trench drain, with a starting at a height of 2.36". All of our trench drains have integral rails and are available with a heavy duty galvanized and stainless steel rails up to class E600 kN.These shallow trench drains reduce the need for thicker concrete slabs; lowering costs and allowing for design flexibility.
With our FILCOTEN mini channel, there's no compromise on quality or durability.
It's stable yet lightweight, and can be adapted to site conditions. FILCOTEN mini is available in galvanized or stainless steel rails up to class E 600.
The flat inner surface of FILCOTEN channels is highly crafted making each channel smooth, in order to minimize surface friction. This achieves the best possible flow and a superior self-cleaning effect.
Features:
Prefabricated sealant groove
Sealant groove for waterproof installations.
Intelligently distributed fixing points, both on the inner and outer sides of the rails, guarantees ideal bonding.
Fast and secure snap-on anchoring system
The intelligent connection uses a simple four-point, quick-release design to securely hold the grate in place.
Steel frames
The special design of the steel rails allows for secure grating locking. Adjacent covering surfaces can easily be attached to the edges.
Anchoring and fixing recesses
In addition to the optimal concrete adhesion property of FILCOTEN® the recesses allow for a secure fit in the surrounding concrete base.
Z884 4-3/4" wide Shallow Trench Drain
Zurn Z884 4" wide trench drain system is a minimal depth channel drain. Polypropylene structural composite drain channel with 3 inch height. Zurn like many others come in 40" sections. sections with frames, slip joints and u shaped channel. Grate options come in ada, pedestrian, polymer, hdpe, ductile iron and steel.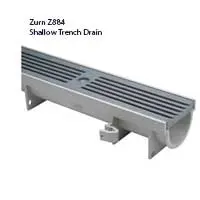 Mifab Shallow Trench Drains
Mifab Series Shallow Trench Drain is a T275, 4 3/4" wide, 2 ¾" deep, 40" long, non sloped trench drain system. Body is manufactured from 14 gauge steel and finished with an acid resistant powder epoxy coating.
Each body has slotted tabs on both sides of the body, 10" apart, for rebar tie down and leveling.
Bodies have flanged ends to connect to each other with a neoprene rubber gasket in between. End and bottom outlets are available in 2" or 3" no hub outlet connections and are fabricated as part of the trench drain system. 20" long polypropylene grates are provided as standard (Suffix –HPP) along with grate lockdown hardware for each grate to secure to the body.
Class A and E grates are also available with H-20 and / or ADA compliance. End caps and catch basins are also available.
Mifab Applications include residential, kitchen and sidewalk areas that require surface drainage in shallow (only 2 ¾" deep) excavations. The lightweight acid resistant powder epoxy coated steel body provides for long life. An infinite number of body sections can be assembled together to serve any requirement. 45 and 90 degree body sections are available.