Residential trench drain systems
Trench drains are used in homes in front of the garage, around the pool, on the driveway, around the lawn and anywhere water buildup may cause a concern.
Drains are an integral part of any home whether it's a flat in a multistory building or a palatial bungalow. A good drainage system will keep the house free from water accumulation caused by improper slope that can result in foul smell, seepage and mold. During spells of excess rainfall many residences face the problem of water accumulation in their foundation, basements, driveways and yards. Not only does it look unsightly, it can ruin the landscape and cost a fortune to get the damage repaired. Residential trench drains serve the purpose of removing surface water from storm water runoff and excess rainfall by diverting it effectively from areas prone to flooding.
Why use Residential Trench Drains?

Trench drains or channel drains are so versatile that using it for residential application is as easy as it comes. With a wide variety of sizes and patterns to choose from, trench drains are no more eye sores in an otherwise lovely landscape.
Trench drains can be customized based on individual requirement. Linear trench drains are always the popular choice because of its neat appearance.
Materials used to make trench drains are strong with high compressive strength and low porosity such as steel, structural plastic, polymer concrete and fiberglass. They are easy to assemble within a trench and need to be set in concrete to help attain integrity required for a good drainage system.
Channel Drains can be used within the house such as in the shower room, indoor garden, external kitchen and porch.
Channel Drains can be used outside the house for swimming pools, gardens, downspouts, barns, outhouse, driveways and sidewalks.
A sound drainage system improves the overall appearance of a home not only because of its decorative looks but also because of its ability to prevent flooding and water logging by draining surface water effectively.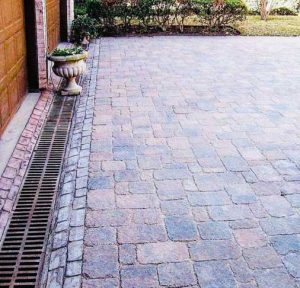 Best Residential Trench Drains in the Market

There are many brands available in the market for residential trench drains and one should exercise caution in selecting products that last long, are strong and need less maintenance.
Swiftdrain Sierra 5 trench drain is a solid trench drain with ductile iron grates and easy to install polymer channels. The joints are easy to connect and its durable and cost effective.
NDS Dura Slope channel drains come pre sloped and are available in a variety of grate styles. that are available in neutral and pre-sloped sections. The channel depth varies from 4 inches to 12 inches and come with wide selection of grates both decorative and otherwise. Some NDS products are Dura Slope channel drain sections, Dura Slope EZ Track, Dura Slope ductile iron frame and Dura Slope in-line catch basin.
Mea Drive by Mea Josam residential trench drains feature lightweight fiberglass that help in easier and faster installation. Grates can be chosen from decorative cast iron, lightweight plastic grates, stainless steel and galvanized steel depending on loading form A-C based on where the trench drain will be installed. MEA's MEArin100 is a residential trench drain that is made of fiberglass with a unique optional bottom outlet that prevents clogged drains by trapping dirt and odor. The MEArin 100 series of fiberglass residential trench drains have outperformed other names in the trench drain market and are ideal for home application. The sturdy channel body comes with pre-marked recesses in the bottom of every unit to allow for flexibility in installation.
Residential trench drain systems ensure the proper functionality and longevity of a house, its basement, patio and driveway.