Description
200 Fiber Reinforced Concrete Trench Drain
8″ wide fiber reinforced concrete trench drain system
The Swiftdrain 200 series is a best in class fiber reinforced pre sloped concrete trench drain system.
Made out of heavy duty fiber reinforced concrete channels with galvanized steel frames. The 200 series can be equipped with heavy duty ductile iron grates, galvinized steel grates or stainless steel grates. Suitable for load classes A, B, C, D, E.
For commercial, industrial and residential applications
8″ wide fiber reinforced concrete channel
multiple grate options
Accepts 4" , 6″, 8″ 12″ pipe
Used in roadway applications, warehouses, airport hangers, breweries, forklift applications, loading docks and airports
Grate options in ductile iron, fiberglass, stainless steel, polymer and galvinized steel
Pre sloped at 1%
The 200 series consists of 33 pre sloped channels and 8 neutral channels. The system can be extended upwards of 196 linear feet. The drain can be configured with a side outlet or bottom outlet. The end outlet can be configured for 6″ 8″ and 12″ pipe.
Inline Catch Basins can be used to filter out debris before the outlet. These catch basins are seamless and are the same width of the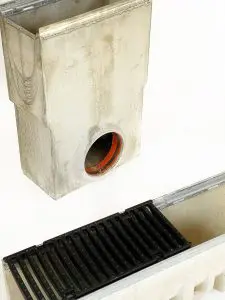 Resources:
Call us anytime at 1-800-690-3940