Description
Swiftdrain 200 Plus
For residential and commercial spaces
10" wide channel body
9″ wide grate
Slot-top grates provide a sleek, handicap accessible design
Accepts 4″ 6″ 8″ 12" pipe
9″ grates wide trench drain system perfect for most residential and commercial applications. Fiber reinforced concrete channel with metal grates.
The 200 plus offers superior impact resistance making it less susceptible to cracking and breaking over time. The precast concrete drainage channel is also temperature, frost and UV-resistant, reducing contraction and expansion. These are made to last over time.
Can withstand high load capacities making it an ideal choice for industrial applications like factories, garages and parking lots. Its sleek design can easily be used in public places like railway stations, and pedestrian or residential areas.
Has anchoring ribs which are basically rivets which allow it to securely adhere to the surrounding concrete bed. The unique and patent pending design of the galvanised steel rails allows it to be super safe and secure. The channels can be extended sloped upwards of 180 feet.  The channel for limited heights applications. The channel system is resilient up to class D and can be used in pedestrian areas, parks, sports and leisure facility, car parks
-Galvanised steel rails The special design of the galvanised steel rails allows for secure grating locking with the fi X self-locking system.
-Smooth surface The surface is smoother than concrete, ensuring the best fl ow and self-cleaning characteristics
-Intelligently distributed fixing points both inside and outside of the rails guarantee a perfect bonding with the material.
-Anchoring ribs The innovative production and molding technology made designing anchoring ribs, therefore ensuring a secure bonding with the surrounding concrete bed.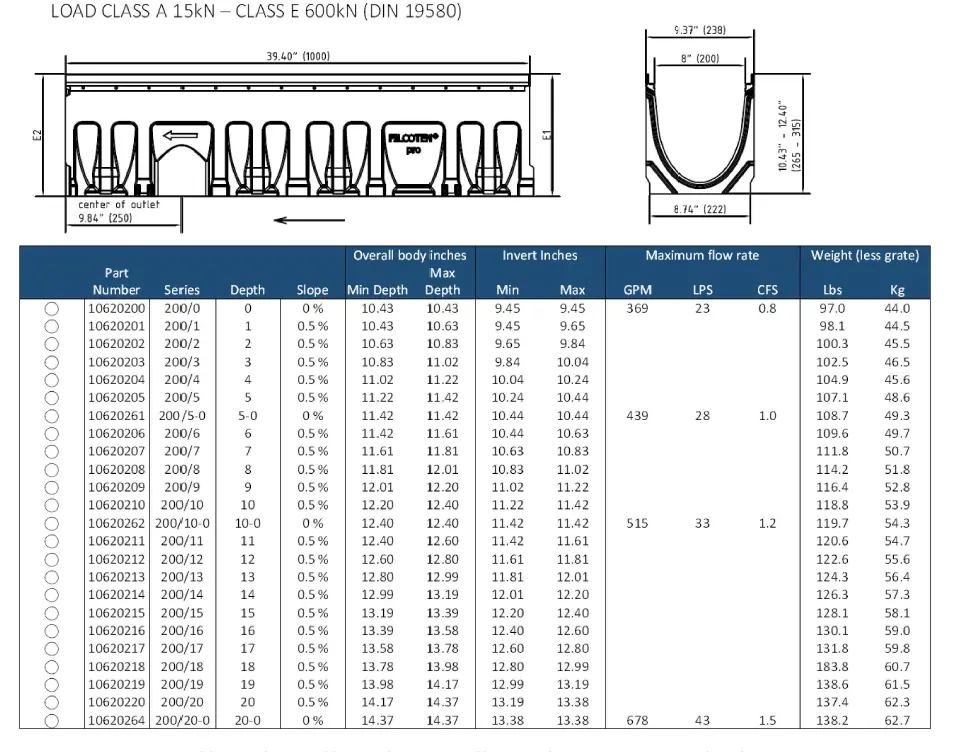 Technical Details:
Swiftdrain 200 Catch Basin and Sump Pump Specifications