Commercial Trench Drain Systems
While drainage is commonly associated with runoff from rainfall, it is equally applicable in commercial establishments such as food processing units, chemical factories and vehicle service centers. Industries that utilize processes that require the use of cleaning agents need to have a good drainage system in place. Surface storm water runoff near commercial establishments such as offices, warehouses and parking areas also need to be managed in order to prevent clogging of storm water drains.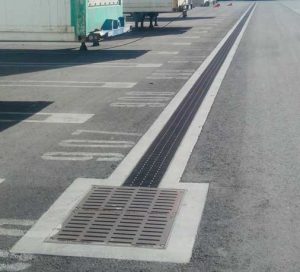 Why use Commercial Trench Drains?

Commercial trench drains are available in a number of visually appealing decorative designs. These trench drains are eco-friendly and adhere to safety norms such as Americans with Disabilities Act (ADA).
Public places such as parks, pools and water fountains utilize decorative commercial trench drains and grates that adhere to ADA for the benefit of pedestrians and tourists in order to enable them to walk over freely.
These trench drains with decorative grates are also great for use near office buildings and businesses.
Parking areas also require trench drains and should be installed in such a way that vehicles never run over the length of the grate.
It is a good idea to install trench drains in warehouses that store goods. Excess rainwater or storm water runoff can be easily directed away from the warehouse by installing trench drains on the periphery.
Industrial units that run manufacturing processes utilizing water need a good drainage system to eliminate the excess water.
Some industrial processes also require the use of strong cleaning agents to get rid of manufacturing byproducts. These cleaning agents should be directed away from the working area to prevent contact with or inhalation of harmful fumes by workers. Heavy duty trench drains can also be used in commercial applications.
Commercial trench drains ensure that hygienic conditions are maintained in the facility at all times and Occupational Health and Safety Administration (OSHA) requirements for workers are also met. Trench drains also prevent percolation of harmful chemical residue to the ground because of the low porosity of the drain material used.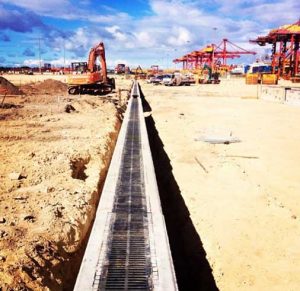 Best Commercial Trench Drain Products

Commercial trench drains are available in a number of materials and are selected depending on what the trench drain will convey and where it is installed.
NDS trench drains are versatile, durable, lightweight and easy to install. The design's engineered solution maximizes storm water capacity while minimizing installation time. EZflow, Flo-Well and Dura Slope are some of the NDS products that work well in any commercial establishment for removing storm water runoff.
Swiftdrain's commercial grade trench drains include the 100, 200, 300 supreme polymer concrete trench drain. It has good chemical resistance with similar grating and is a great option for installation in chemical facilities. It has options for situations that need complex layout and are available in 4", 6", 8" and 12" width for varying requirement. The channel edging of Swiftdrain commercial drains feature galvanized steel, iron or stainless steel. They are widely used in airports, gas stations, parking lots, stadiums and breweries.
Polymer Concrete trench drains for commercial use come with a broad range of polymer concrete channels and grating. For corrosive environment, Polymer concrete also manufactures trench drain grates of high density polyethylene (HDPE) and fiberglass. Polymer concrete has a low porosity with water absorption rate around 1% and the resin bonding of the material creates lesser friction while increasing flow efficiency. Polycast commercial trench drains also have high compressive strength, are resistant to corrosion and freeze-thaw cycles.